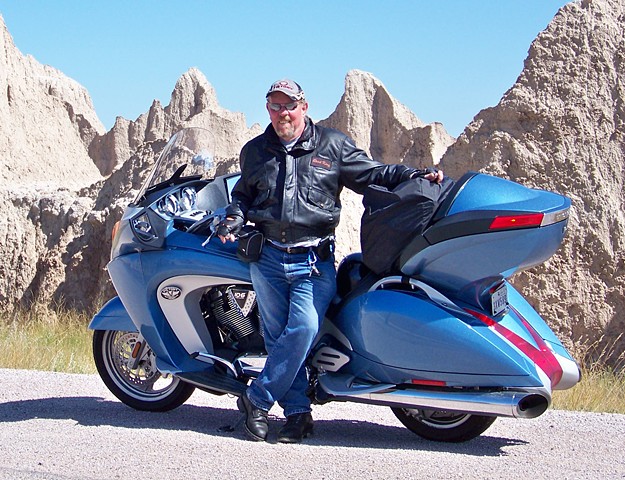 Artist's Statement
After a 20 year career in the Air Force and several years in the corporate world I started taking art classes at the local community colleges and found it enjoyable and relaxing. Now that I'm retired full time I spend a lot of time painting. Most of my work is what I consider a realistic/impressionistic style. I have some abstract works but not many. I have experimented with different media but I tend to like the bright colors I get with acrylics and find it easier to blend shades as I'm working. In 2014 I was inspired by an article in Pastel Journal and started working in that media. I really enjoy it and have had some success.
Most of my inspiration comes from my motorcycle travels throughout the United States where I take photos that I use as starting points for my landscape paintings.
Since I live in Texas I have a lot of Texas scenes but I also return home to visit my family in Indiana so there are some scenes from the midwest as well as some from the southeast. I especially enjoy painting flowers and trees and you will also see several beach and water scenes as I have always felt drawn to the seashore (and I've taken 2 trips to Hawaii recently).
Mason Cox
SHOWS AND EXHIBITIONS
2014 Fort Worth Community Arts Center
"Across the River" exhibition with Race Street Artists
December 2014
Trinity Arts Guild Painting of the Month
December 2014
Trinity Arts Guild Members Juried Show
September 2014, Honorable mention
Fort Worth Fall Gallery Night, Art Studios on Race Street
Fort Worth Fall Gallery Night, Haltom City Art in the City
September 2014
Mid Cities Fine Artists Open Juried Show
May 2014, Emerging Artist 2nd place
Haltom City Art Ramble, June 2014
Fort Worth Spring Gallery Night, Art Studios on Race Street
Fort Worth Spring Gallery Night, Haltom City Art in the City
March 2014